As sailors, the ocean is our home and the beaches of the world our backyard. It`s one thing to read about ocean plastic pollution on this website, but we see the negative effects of plastic pollution firsthand, every day.
This daily dose of plastic pollution is the motivation that pushes us to fight for clean oceans.
How plastic became a Global Threat
Plastic was invented as a highly versatile, long -lasting material. The idea was to minimize the use of virgin resources by reusing and recycling products made from plastic. The shift away from durable plastic items to single-use plastics has undermined the positive aspects that plastic was designed for.
In the early 2000's the global output of plastic waste rose more in one decade than it had in the previous 40-years. This dramatic increase flooded the planet with plastic, but our recycling rates failed to rise to keep pace.
Today, we produce about 300 million tonnes of plastic waste every year, and global plastic pollution is one of the most pressing environmental issues. At IN MOCEAN, we believe that change is long overdue and that we must use plastic to its full potential again.   
79% OF PLASTICS EVER PRODUCED ENDS UP IN THE NATURAL ENVIRONMENT OR LANDFILL
BY 2050 OUR OCEANS COULD CONTAIN MORE PLASTIC THAN FISH IF OUR CURRENT TRENDS CONTINUE
EVERY MINUTE OF EVERYDAY, 1 MILLION PLASTIC DRINKING BOTTLES ARE PURCHASED AROUND THE WORLD
HALF OF ALL PLASTICS PRODUCED IS DESIGNED TO BE USED ONCE AND THROWN AWAY
8 MILLION TONNES OF PLASTIC WASTE ENDS UP THE IN OCEAN EVERY YEAR, MUCH OF IT CARRIED FROM INLAND CITIES BY RIVERS
IT IS ESTIMATED THAT BY 2050 99% OF SEABIRDS WILL BE EATING PLASTIC
IT IS BELIEVED THAT THE AVERAGE PERSON CONSUMES ABOUT 100 PIECES OF MICROPLASTICS WITH EACH MEAL ADDING UP TO 70,000 PIECES MICROPLASTICS ANNUALLY*
*Source: "Banning single-use plastic: lessons and experiences from countries" UN Environment report (2018)
Social Impact of Plastic Pollution
Plastic pollution in the ocean circulates around the globe, sometimes travelling thousands of miles before arriving in remote coastal . People living in these coastal communities are suffering because of plastic waste washing up on their shores. Increased use of plastic packaging in domestic products is also adding to the problem.
These communities often have no infrastructure to deal with trash removal or recycling facilities to properly handle plastic waste. Without a better alternative, plastic waste is either burnt or ends up in un-regulated landfills.
Together, washed up ocean plastic and domestic plastic waste are causing harmful air, soil and drinking water pollution, threatening the health and environment of both animals and humans.
Our Daily Dose of Plastic
We regularly organize beach clean ups of the coastal areas where we sail. After spending all day picking up plastic waste on a remote island, we often find the beach littered with trash again only hours later. It is not uncommon to find birds, turtles and other marine animals entangled plastic waste, dead or struggling to survive.  
Plastic waste carried on the tide washes up on beaches daily. Sometimes the work feels endless, but having clean oceans and shorelines is something we are willing to fight for. We all deserve a cleaner tomorrow and we believe that by getting #inmoceanforcleanoceans we can make change happen.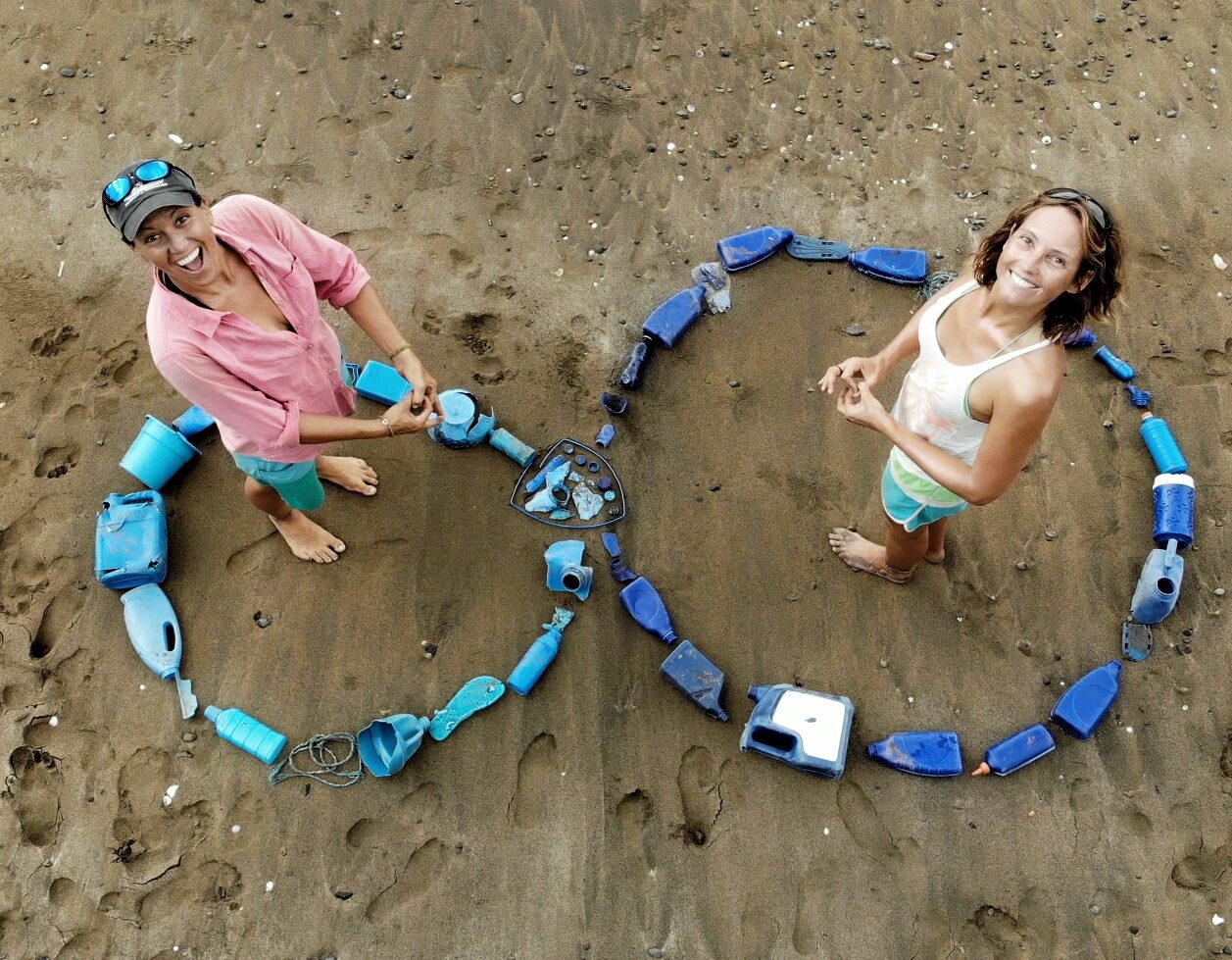 Joana is rocking gently on her anchor chain. The sun is already up for a couple of hours and I can smell the scent of freshly brewed coffee from the galley. Soon it will be hot in the aft cabin, so I turn around one more time to enjoy the last coolish minutes of the day.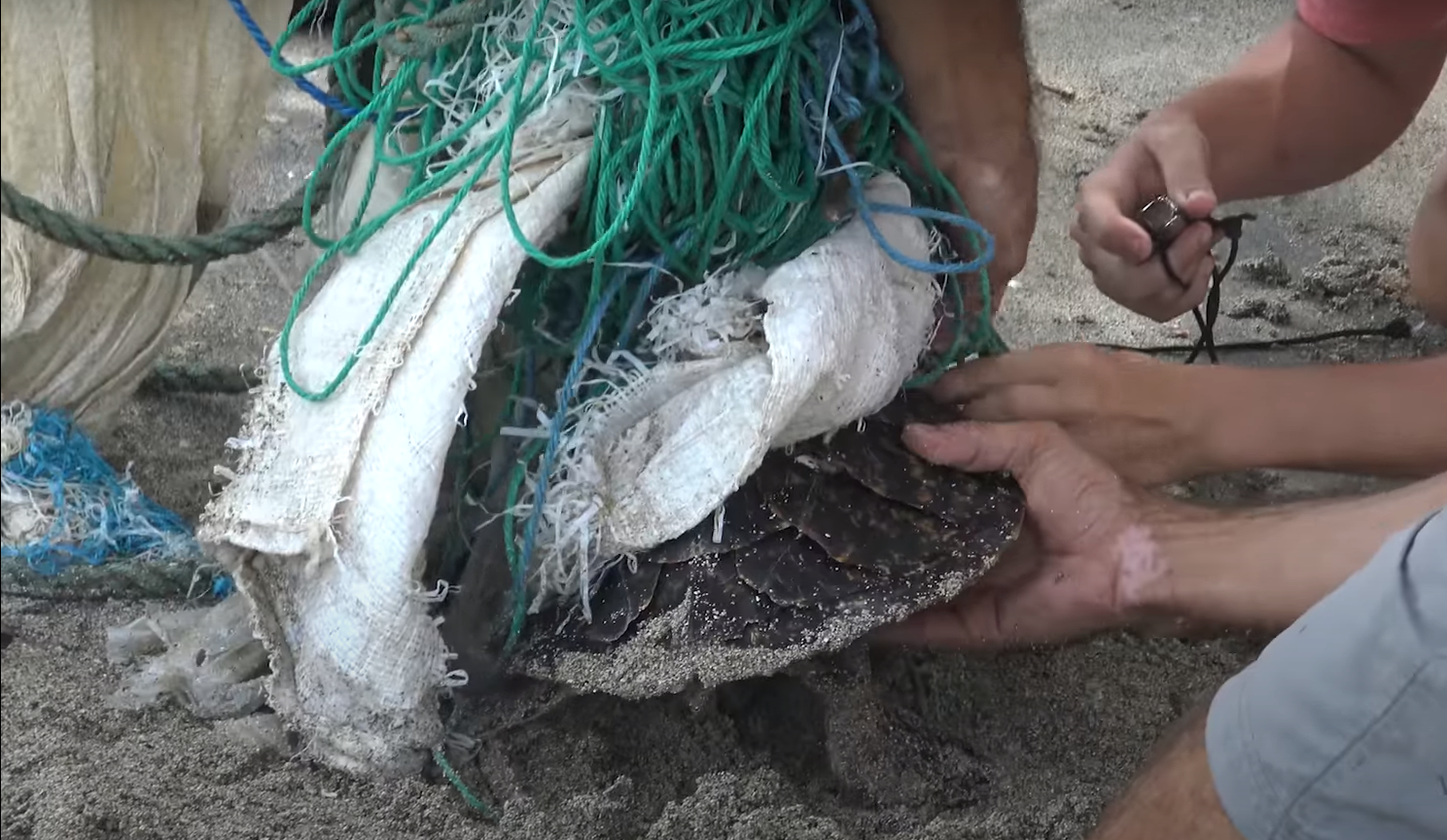 When buddy boating with our friends from Vet Tails Sailing Chuffed, we noticed a turtle on the beach that was tangled up in a bunch of plastic ropes.