Fleet of Recycling Ambassadors
We strongly believe in the potential of plastic recycling to stimulate positive social impact in remote coastal areas. The first step towards change is raising awareness about a problem.
How do we raise awareness about plastic recycling in those hard to reach, remote coastal areas? By activating our global sailor network and creating a fleet of Recycling Ambassadors.
Our fleet of seven Recycling Ambassador are sailing the globe between the Meditarranean Sea and Australia. Our aim is to create awareness about plastic's potential to create new income streams and improve the environmental situation in remote coastal areas.
From Awareness Spots to Recycling Workspaces
Our Recycling Ambassadors are the first step towards clean oceans and shorelines in remote coastal areas. The Fleet`s Mission is to create Awareness Spots for ocean plastic recycling around the globe. Communities that are inspired by our Recycling Ambassadors to set up a recycling workshop can work with us.
We offer a set of services for people living in remote coastal communities to set up Recycling Workspaces. In partnership with these communities, we develop solutions tailored to their needs. We help identify stakeholders, create funding plans that ensure sustainable infrastructures, and provide workshops on starting a self-sustainable community recycling workspace.
Mobile Recycling Machines
Our Recycling Ambassadors will work with machines that have been designed with the needs of sailors in mind. They are lighter, more compact and less energy hungry than the machines that we use in our land-based recycling workspaces. This makes it easy to transport them to shore in a dinghy where we will showcase the recycling process to local communities.
Compact motorized Shredder
This compact motorized Shredder developed by Precious Plastic Melbourne helps our recycling Ambassadors to crunch collected plastic into small flakes that can be filled into the Extruder to turn the plastic into new products – basically on the go!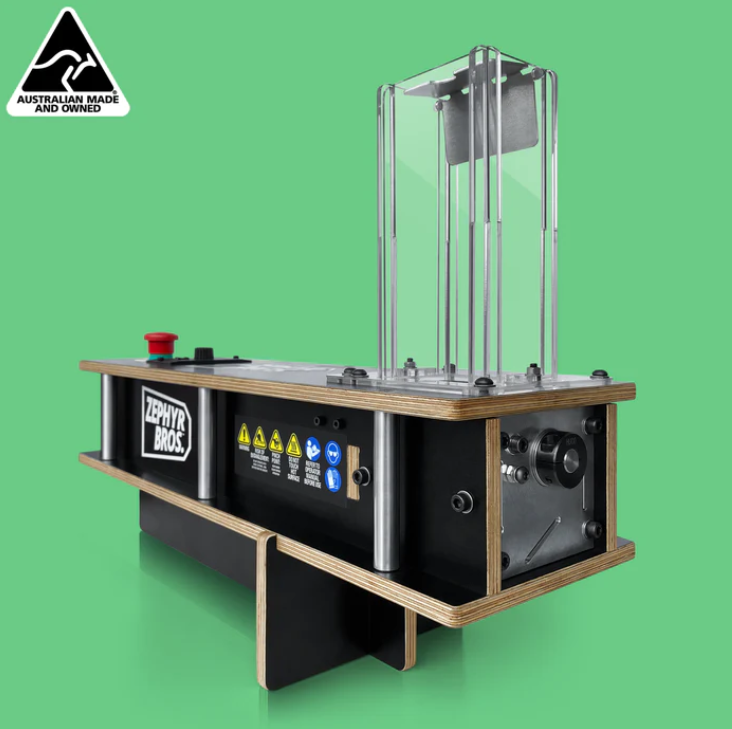 The innovative Benchtop Extrusion Machine is the world's first hand-cranked plastic Extrusion Machine. Not only is this extruder capable of producing recycled plastic filament can also be used to fill small product molds. It is compact and portable –a perfect fit for the Recycling Ambassadors who live on sailboats with limited storage and work space.
Dimensions – 360 mm x 300 mm x 340 mm
Weight – 15 kg
Power Consumption – 1265 Watt @240 Volt