We were super excited when we got a message from the recycling project Saboga Bonita on the Island of Saboga if we could come and give a workshop on how to make our recycled ocean plastic baskets. They are a sub branch of The Ocean Legacy Project here in the Las Perlas islands and they also work with the Precious Plastic recycling machines that we use.
Of course, we are in! What a great opportunity to spread the word about recycling ocean plastic and also to connect with a fellow project that follows the same missions as we do.
Preparing the material for the recycling workshop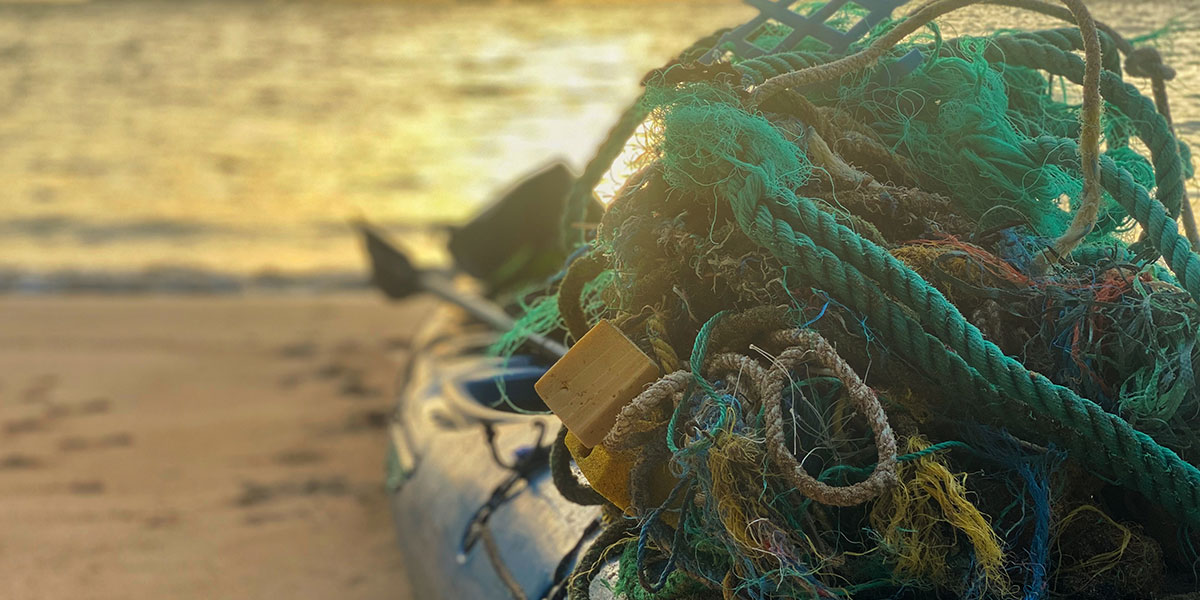 Luckily, we still had a bunch of rope and pieces of plastic on our sailboat that we had trucked home from various beach combs. But they were all still fairly tangled up and needed some good cleaning, too. The preparation of the material is probably what takes up most of the time in the production of the baskets.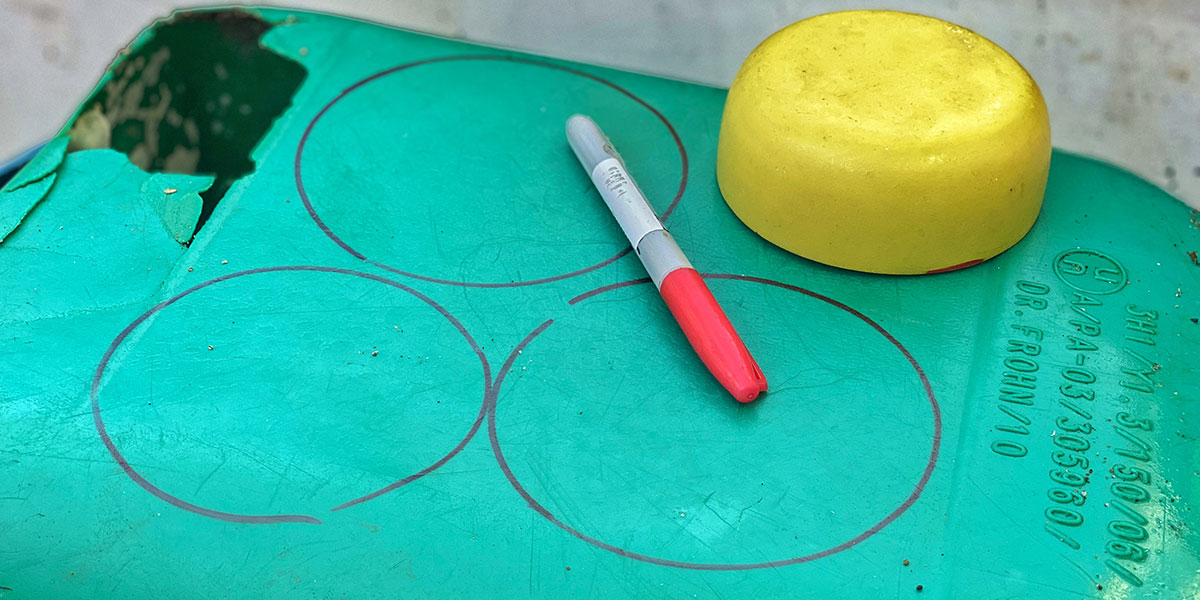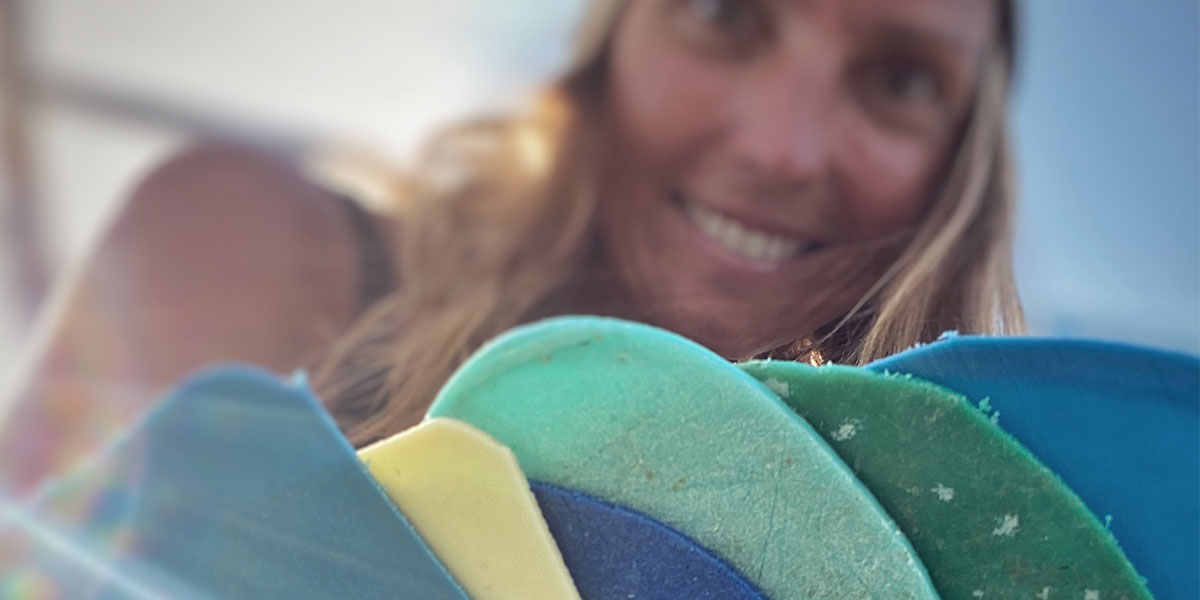 After a couple of hours of untangling lines and cleaning them, the bases for the baskets had to be cut from some collected plastic containers. We found some material in different pretty colors and prepped some different shapes. Now all that is le! to do is to drill some holes into them so we can connect the bottom line of rope to them.
A bumpy ride to recycle ocean plastic
We were not sure how many people would join the workshop, so I asked some of our friends here on Isla Viveros to come with us in case we needed some help to master the masses. Our favorite lancha driver Rafa picked us up right on time. Just the boys were a little late which made me a little nervous.
At 9:30am, the team was complete: David, Nica, Paul and of course his cute little doggy Luca. The four of us are quite the bundle of nationalities, a joint of Panama, Nicaragua, Switzerland and Germany.
To make up for the late departure, Rafa opened up the throttle and we were flying over the waves. Well, actually we were beating into them quite a bit and all of us got a good shake from the ride.
The slow clocks of Central America
We arrived nearly on time in Saboga. The workshop was taking place in the Panama Sailing Club that is situated just off a pretty beach on the north-east side of the island. There are approximately 750 people living on the island, most of them in the village with the pretty colorful houses.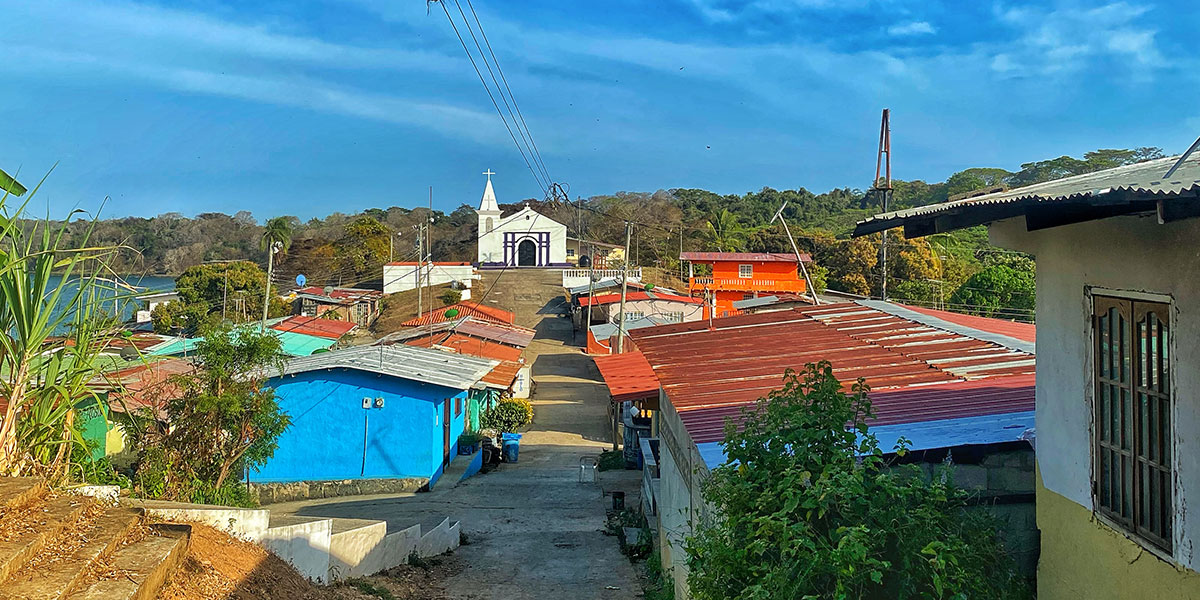 We had planned the workshop for ten o'clock, but no one was there. Dinah, who runs the Saboga Bonito project for Ocean Legacy on Saboga went for a stroll through the village to see where the workshop participants were. It turned out, ten o'clock on a Sunday was a bit over ambitious timewise. So we sat everything up and used the time to exchange some info about our recycling projects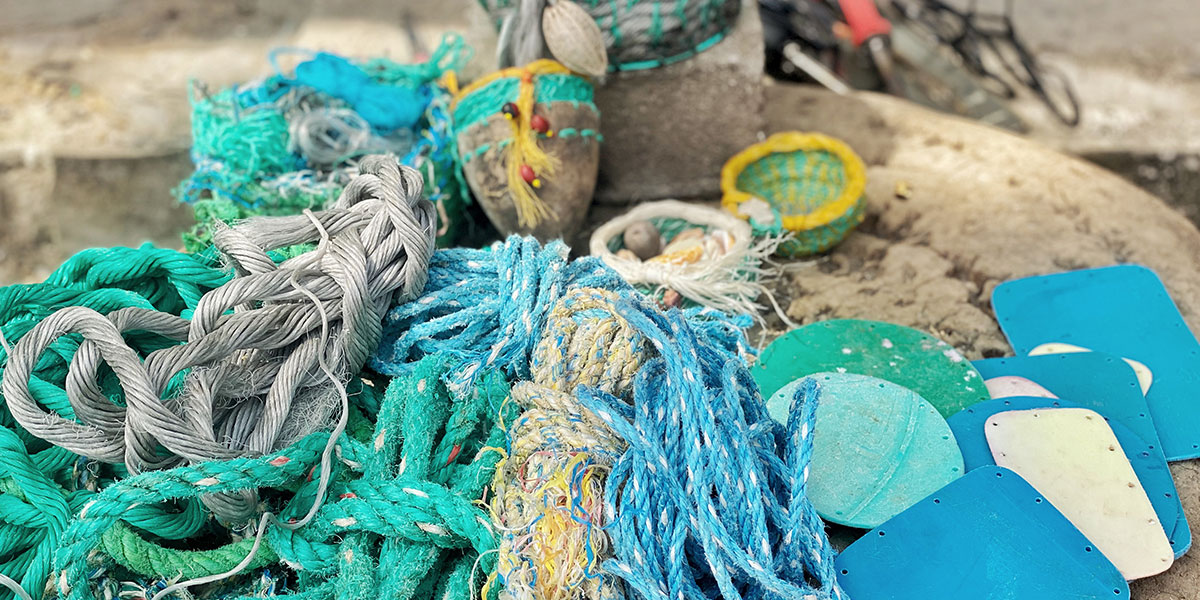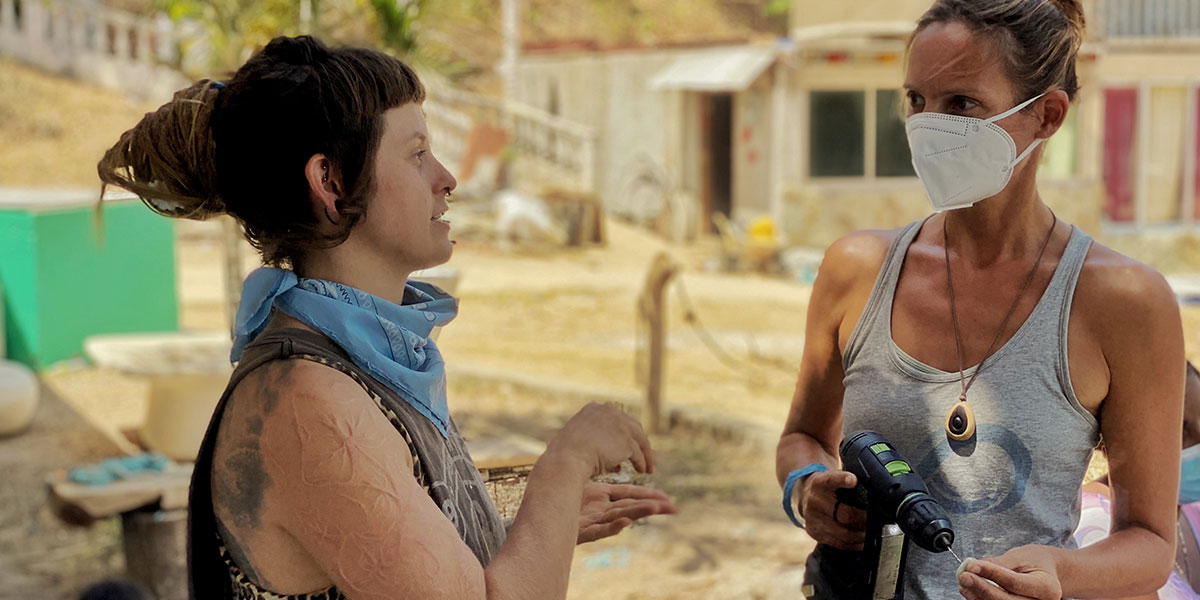 Saboga is the first island in the Las Perlas with a recycling system
Dinah showed me their precious plastic machines and she also explained me how they are going to gather the plastic that they want to recycle. They are setting up collection points for recyclable items in cooperation with some local shops on the islands. When people purchase a recyclable package, they pay a deposit of ten cents that will be returned to them when they bring the package back in a clean state.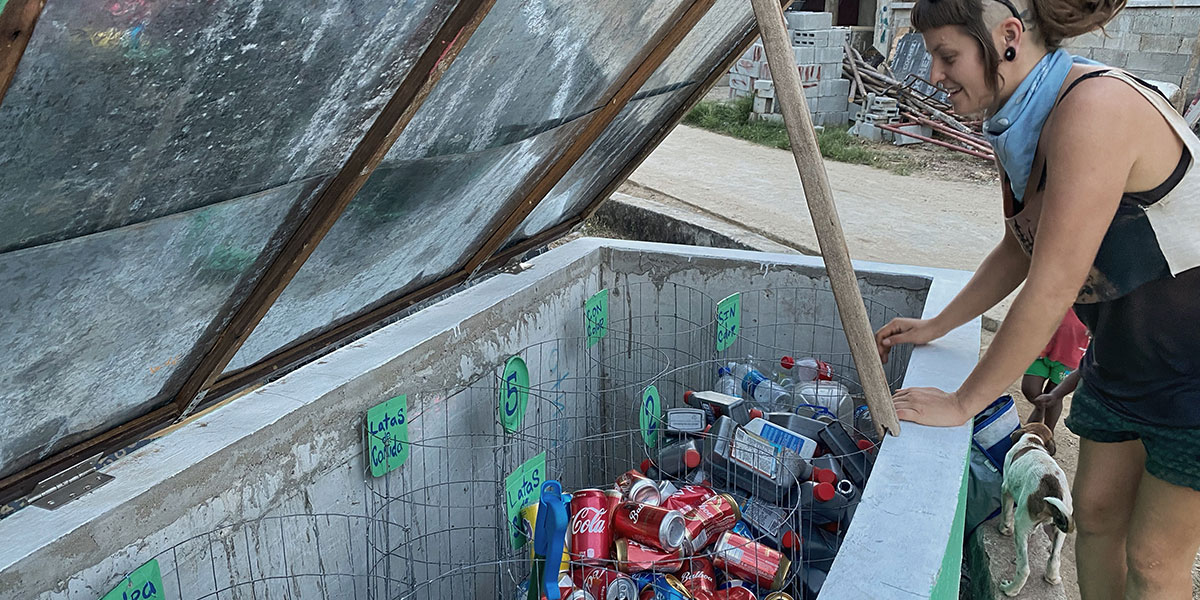 Once the collection point's box is full, they will call the local garbage company that will transport the recyclable goods to the Eco Center where they will be recycled on the spot with the precious plastic Shredder and Extruder.
From the collected plastic, they want to build plastic bricks for construction. These bricks will be cheaper for the locals to purchase than "fresh" material that has to be transported from Panama City to the island. That way, plastic will not be seen as trash anymore but as a valuable resource that will help the community. Instead of polluting the environment or being burnt in one of the landfills on the island, the plastic material will be given a second life as valuable construction material.
Finally, we see some little heads popping around the corner. With initially shy eyes, the first kids approach us and I start chatting with them a little bit about plastic on the beaches and what it does to our environment and also to one of their most important food sources: fish.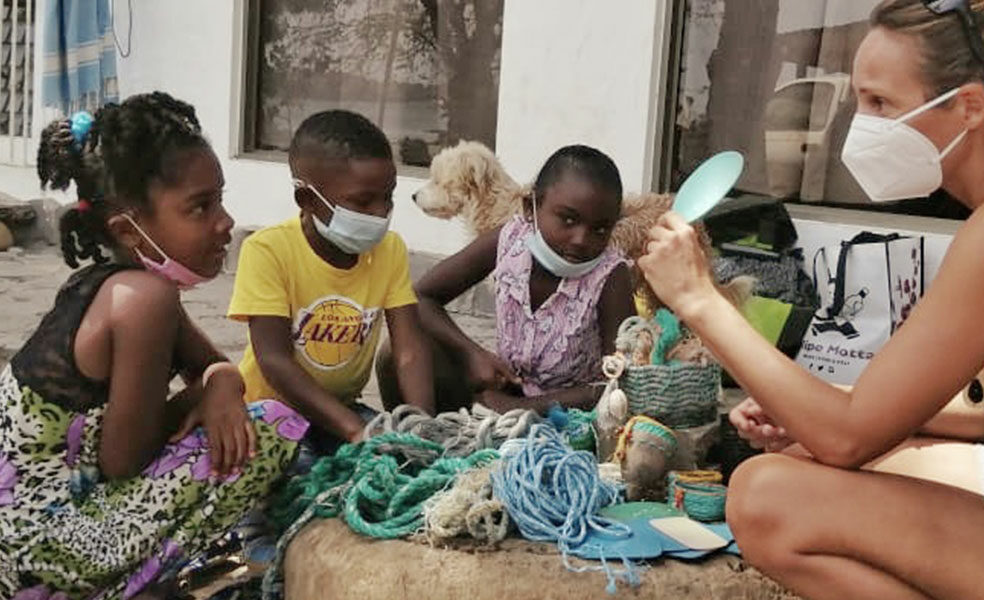 "Si los peces se comen el plastic, y tu te comes el pecado, que te comes entonces?" (If the fish eats plastic and you eat the fish, what are you eating then?). Their eyes are getting big and they are making some worried faces. Not a surprise, who wants to eat plastic, right?
But kids don't want to hear any lectures about plastic pollution, they want to DO stuff. So we start crafting away and slowly, the crowd around us is getting bigger. Everybody wants a pretty basket and when they see that I brought some pretty shells for the final touch, they get even more excited.
Soldering for the kids, weaving for the grown ups
For the kids, we are making the plastic baskets by melting the plastic rope together with a soldering iron. That's quite a fast method, so it's good for kids who are not as patient as some older workshop participants.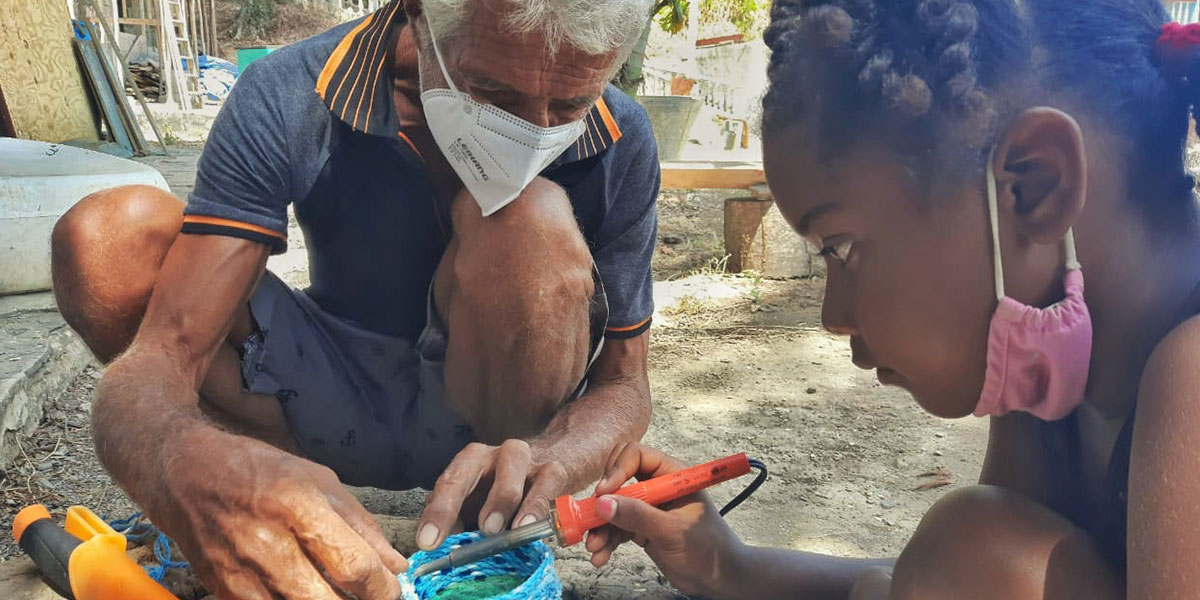 Since soldering irons are hot, we guide the production and the kids are helping to turn the rope and if they are old enough, they get to hold the soldering iron under supervision.
Now, the table is slowly filling up with some ladies that want to learn how to weave baskets from recycled ocean plastic. Luckily, I have my great team with me, and I hand some soldering irons to Paul, David and Nica and the three of them take care of the kids whilst I start the workshop for the grown-ups
A beautiful variety of recycled beach baskets
The ladies from Saboga are pretty amazing. Pretty much right away, they get the hang of the weaving technique and they are crafting away. It is interesting to see, how individual all the baskets develop, each one has their own unique color pattern and style.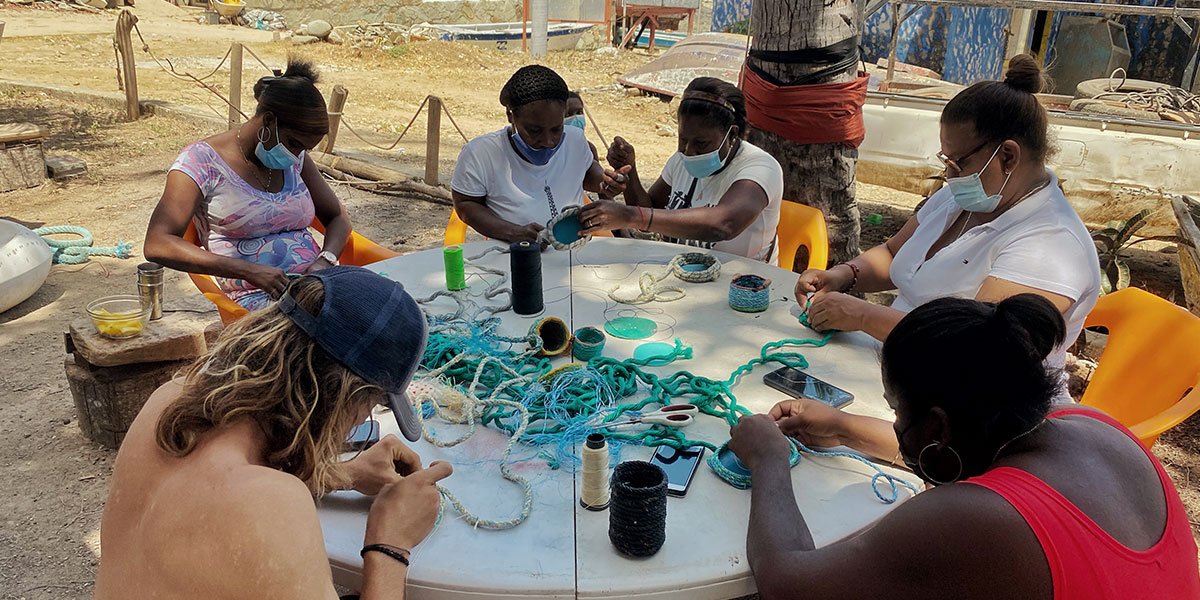 Only occasionally do I need to lend a hand here and there. And even that is taken care of since they are already helping each other when one of them loses the thread. I could not be happier because it gives me some time to snap some pictures and even capture some short videos.
One basket – many different functions
In the meantime, we are talking about what they are going to do with their baskets: "I am gonna use it as a flower pot", says one of them. Others want to put their toothbrushes in there or use it for their jewelry. What a pretty second life for this formerly abandoned plastic rope. And when you look at the baskets, you would never think that they are made from something that has been considered waste before. Mission accomplished, I would say!
The only thing missing now is the finishing touch: A little shell and some plastic rope in a different color to make each basket even more unique. To me, this is always the best part of the crafting process. The ladies are sorting through the shells, each choosing one to pimp their basket.
The best things are often saved for last
Once the workshop was over, one of the little girls walked along the beach and picked up a piece of plastic rope. She turned it in her hand and then looked up: "mira, aquí hay más material para hacer otra canasta!" (look, here's more material to make another basket).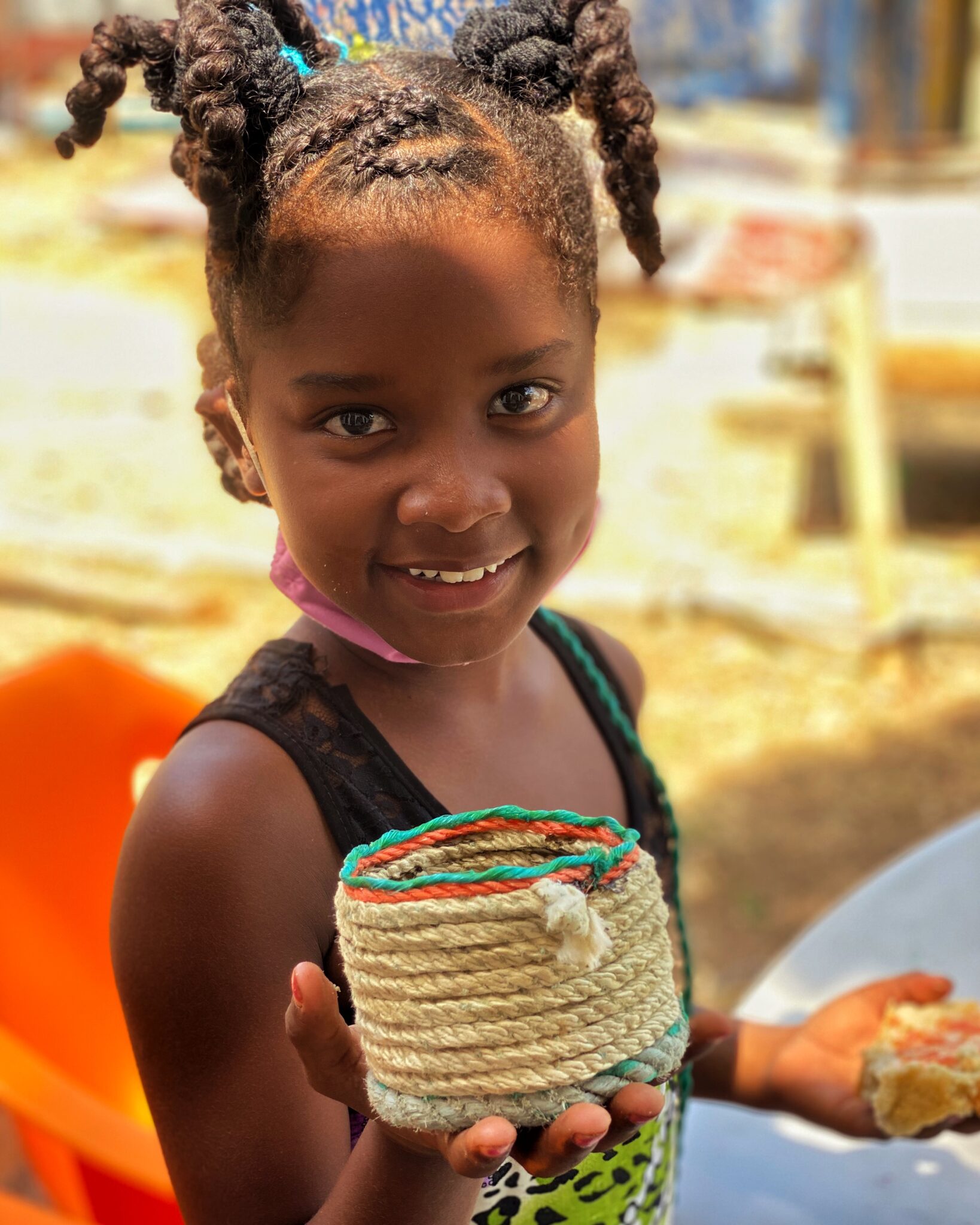 Working with kids is a wonderful experience. Not just because we get to see so many smiling faces, but also because it's like planting little seeds all over the place. This little girl has understood our message and will carry it within her from now on. And since kids love to talk, there is a great chance she will tell others about how she recycled ocean plastic into a pretty basket today.
Thank you, Isla Saboga! It has been magnificent to see all of you being so passionate about recycling baskets from collected ocean plastic. We could see the spark jump over and we are thrilled to have new members in our army to fight plastic pollution. Our first workshop could not have been any better.
Seeing people being excited about recycling inspired us right back and filled us with a ton of energy. Guess what, on the way home we were already planning the next event. Next time, we will visit the Island of San Miguel and we hope that it will be just as much fun as this Sunday was.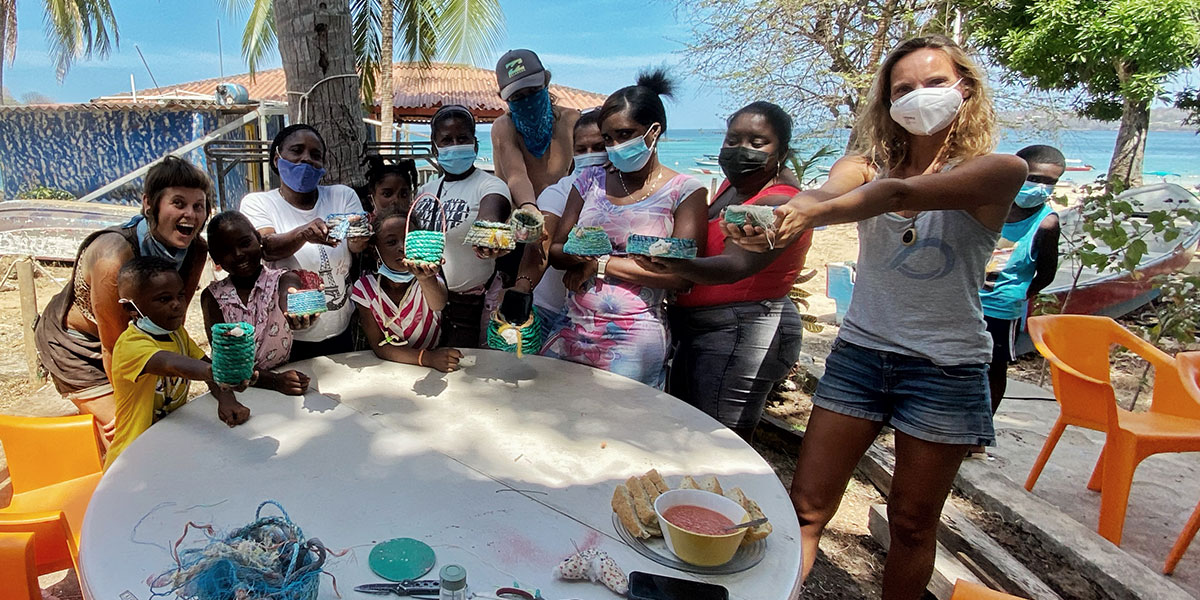 A big thank you to Saboga Bonita to invite us to do this workshop and also the Sailing Club Panama for providing their facilities to host the workshop. We hope to see you again, soon.
Hasta pronto, amigos de reciclaje!